I've talked before about comics that put me off buying them because of the way women are displayed on the cover or within, and I'd like to illustrate this with one of IDW's own titles. Actually on this occasion the visual portrayal of women was not so much the reason for me to drop this book but the last straw - but the argument still holds.
For the past two years, I've been buying the bookend comics of the Infestation crossover events, just to get more of the full story. I won't do that anymore. Here's why:
A large chunk of the problem of the portrayal of women in comics (visual or otherwise, but mostly visual) comes not from the focus on sexiness, period (because there are comics which do that very well, and there are also so-called "T&A comics" where it actually sets the tone of the book - more about that later), but because it shows up in comics where it simply isn't appropriate for the situation and the kind of story it tells (superhero comics are a big example of this) and what's more - risks taking away from the story itself, because it simply has no function therein and ends up being distracting rather than supportive. Let's take a look at the more prominent female characters in the latest Infestation, shall we?
Here's Britt: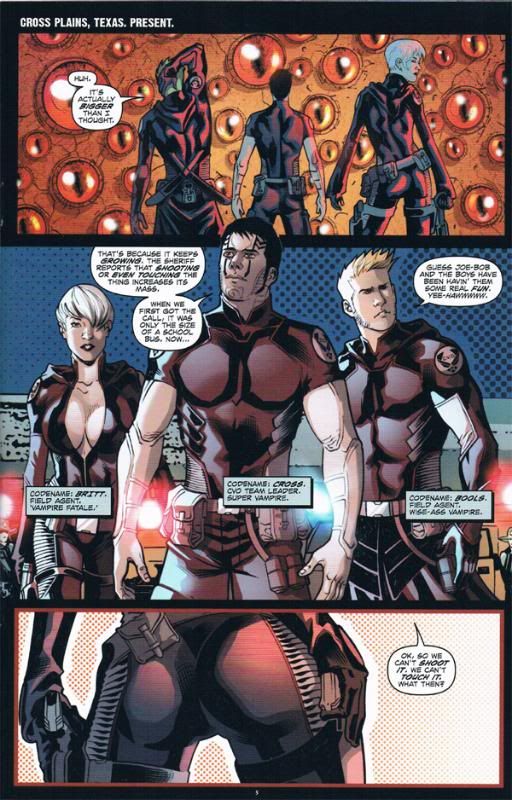 I don't know why cleavage down to the navel has become such a fashion statement for our ink-and-paper girls lately, but it shows up
everywhere
(also I betcha anything those things aren't real
).
Why this is a problem:
From what I can see, CVO is a pretty serious book. A book that, despite, y'know, zombies and vampires and monsters-from-other-dimensions, shows some pretense at realism in both the art and the storytelling.
Well, this isn't realistic. It's about as far from practical as you can get - those things are gonna pop out any minute. (And what's the point of that * shot, anyway?) Britt's portrayal serves only one thing: titillation of male readers. It doesn't support either the character or the story in any way, in fact, it takes away from it. It's not realistic, it's distracting, and readers like me will go "ugh". There is no real, valid function to it.
Unless, you know, you can use those breasts as a weapon, because I could totally see that.
Yeah, vampire chick = hot. I get that. It's a stereotype, but well, vamp chicks have always dressed Teh Sexy. Oh, but we've got more female characters, don't we? Let's have a look:
FOR THE LOVE OF ALL THAT'S HOLY, BUTTON UP YOUR SHIRT GIRL! Really, I'm starting to think there's some kind of weird uniform requirement for the comic or something. I'd give her the benefit of the doubt and say she had to dress in a hurry, but five pages later she's still walking around like that. Le sigh.
And Infestation is a crossover event with titles like Transformers and TMNT which I happen to know has a substantional female readership - not very big, perhaps, but it's there. You'd think they'd show some consideration.
But this is what most comics are like, these days. A dominant force of sexualised, titillating portrayal of women that diminishes, not improves, the strength of either the stories or the characters. Regardless of their position or physical strength or skills, these aren't strong characters. They're sexualised characters.